Hill Valley in 2015 | Back to the Future | Back to the Future 2 | Back to the Future 3 | Back to the Future...The Ride | Back to the Future 4 | Back to the Future 5 | Blast from the Past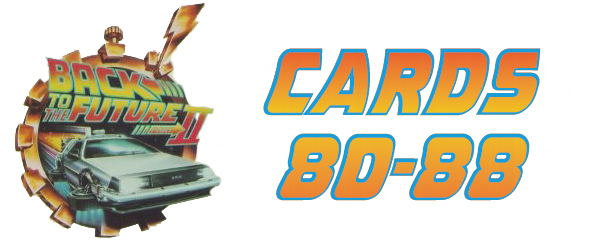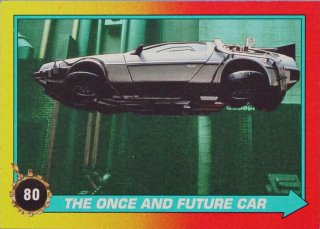 THE ONCE AND FUTURE CAR
It was Robert Zemeckis (co-writer, director) and Bob Gale (co-writer, producer) who selected the DeLorean as their "time machine". The scenes of this sleek vehicle flashing into the future combine both physical and optical special effects...
FOR SPECIAL GLIMPSES INTO THE
FUTURE, COLLECT CARDS #81-#85!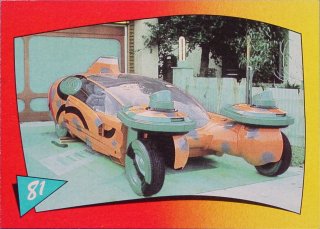 The Spider Cas was deisgned by Michael Schifley. It was originally used in Ridley Scott's BLADERUNNER but was repainted for BACK TO THE FUTURE 2.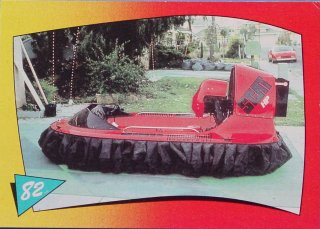 This is the Scat Hovercraft, manufactured by Scat Hover Craft, Miami, FL. It is an electric start prop machine, capable of vertical heights of 6-8" and forward thrust up to 45mph on any surface.
This Taxicab is from Citroen Graphics, eith special effects equipment designed by John Bell from ILM. It is used in the transportation of 76 year old Biff when he follows the DeLorean.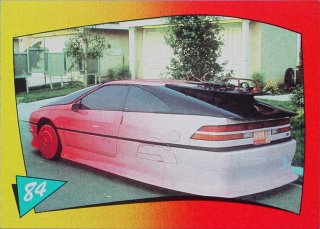 This retrofitted Ford prototype is fitted with aerodynamic skirts and has a turbo charged V-8 engine. It is used in most background scenes in Hill Valley town square.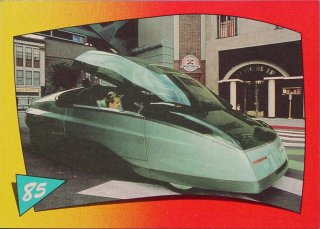 Manufactured by Chevrolet, this twin turbo-charged prototype has an aluminum body and a gull wing door. It is due for entry in to the American market in 1992.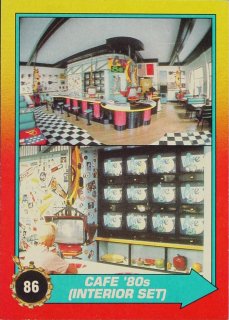 CAFE '80's (INTERIOR SET)
Explore the fascinating and highly imaginative interior of Cafe 80's, compklete with a wall of high tech video screens. Like so many sets in this movie, it is a triumph of color and desgin.
CONTINUED ON CARD #87:
MICHAEL J. FOX IS MARTY McFLY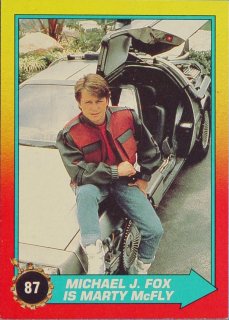 MICHAEL J. FOX IS MARTY McFLY
Michael J. Fox, the young star of the BACK TO THE FUTURE series, is no stranger to American film and TV viewers. His work includes THE SECRET OF MY SUCCESS, BRIGHT LIGHTS BIG CITY, CASUALTIES OF WAR, and the vehicle that first brought him to national attention, television's FAMILY TIES.
COMING NEXT ON (FINAL) CARD #88:
UNTIL NEXT TIME...!
UNTIL NEXT TIME...!
Is Doc Brown a goner? Can Marty successfully travel back to the old west to save his closest friend? These and other pulse-punding questions will be answered in BACK TO THE FUTURE 3, flashing into your local movie theater in the summer of 1990. Be there!
THE END (FOR NOW!)